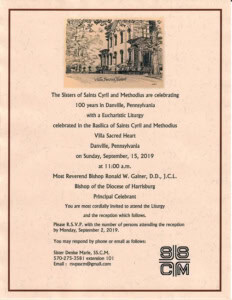 The Sisters of Saints Cyril and Methodius are celebrating 100 years in Danville, Pennsylvania with a Eucharistic Liturgy celebrated in the Basilica of Saints Cyril and Methodius Villa Sacred Heart Danville, Pennsylvania on Sunday, September, 15, 2019 at 11 :00 a.m.
Most Reverend Bishop Ronald W. Gainer, D.O., J.C.L.
Bishop of the Diocese of Harrisburg
Principal Celebrant
You are most cordially invited to attend the Liturgy and the reception which follows.
Please R.S.V.P. with the number of persons attending the reception by Monday, September 2, 2019.
You may respond by phone or email as follows:
Sister Denise Marie, SS.C.M.
Phone: (570) 275-3581 extension 101
RSVP: rsvpsscm@gmail.com