This retreat is silent and is intended to be contemplative.  It will be a time for personal prayer and meeting privately with a spiritual director to discuss one's experience of God in prayer.  Both retreats are presented by Lois Landis Miller in May, therefore registration is limited to a total of 5 retreatants for the weekend.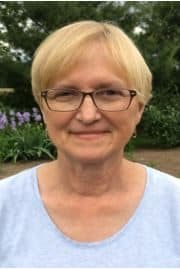 Lois Landis Miller is a spiritual director who received her training through Kairos School of Spiritual Formation. Lois has a B.S. in elementary education. She is married, the mother of three adult children and their spouses, and grandmother to two. Currently, Lois is involved in pastoral care and prayer ministries in her church, and companioning others as a spiritual director and mentor. She also guides contemplative prayer retreats. She finds great joy in spending time with her grandchildren, bird-watching, photography, reading, and gardening. Most of all, she delights in walking with others on their spiritual journeys.
Both retreats are presented by Lois Miller, therefore registration is limited to 5 total participants the weekend of May 14-16.
Registration and Offering (paid in full) Deadline: Friday, May 7.
After you register you will be contacted via your email for a link.