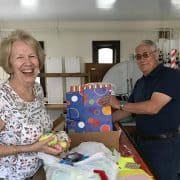 Volunteers help to provide our Sisters with extra assistance that makes all the difference in their lives. Volunteers provide invaluable support to our elderly and sick Sisters, both in direct contact and through indirect services in various departments. Although they render many services through their contact with the elderly, volunteers usually find that they receive much more than they give.
Volunteer opportunities with the Sisters of Saints Cyril and Methodius include, but are not limited to:
Greeting visitors
Answering phones
Giving tours of the Basilica of Saints Cyril and Methodius
Sharing clerical skills
Sharing computer skills
Assisting with social activities in our retirement facilities
Providing entertainment or enrichment programs for Sisters
Visiting an elderly Sister
Making/donating craft items for sale in our craft room
Gardening
Baking
Reading the newspaper or books aloud
Helping with correspondence for the elderly
Maintaining our grounds and buildings
Contact us today and let us know how you'd like to get involved! We are grateful for your interest.